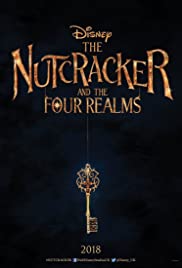 0.0%
Let the mystery unfold.
Original title: The Nutcracker and the Four Realms
Auf der Suche nach einem geheimnisvollen Schlüssel, der eine Kiste mit einem ganz besonderen Geschenk für sie öffnen soll, landet die junge Clara in einer mysteriösen Parallelwelt. Zunächst durchstreift sie dort das Land der Schneeflocken, das Land der Blumen und das Land der Süßigkeiten, wo sie auf merkwürdige Bewohner trifft. Und schließlich begibt sie sich zusammen mit dem jungen Soldaten Phillip in das unheilvolle Vierte Reich, das von der tyrannischen Mutter Gigoen beherrscht wird. Schnell wird klar, dass es nicht mehr nur um Claras Schlüssel geht, sondern darum, die Harmonie in den vier Reichen wiederherzustellen.
Bewerte die Qualität der Untertitel (

0

Stimmen)