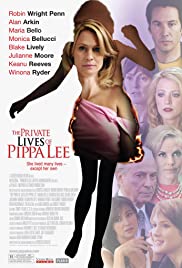 64.0%
Enamorarse de Pippa Lee.
Original title: The Private Lives of Pippa Lee
Pippa Lee (Robin Wright Penn) es una mujer en la plenitud de la vida. Casada con Herb Lee (Alan Arkin), un exitoso editor 30 años mayor que ella, madre de dos hijos ya crecidos, es una generosa anfitriona y una excelente cocinera, además de una gran amiga y confidente de todos los que entran en su vida. Sus problemas comienzan cuando sigue lealmente a su marido para comenzar una nueva vida en una comunidad de jubilados. Entonces el idílico mundo y la personalidad de Pippa entrarán en crisis; porque, por dentro, Pippa está muy lejos de ser plenamente feliz...
Rate quality of subtitles (

0

votos)