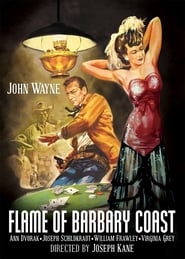 64.0%
The brawling, colorful story of the queen of hearts and the ace of gamblers... with a shock climax such as the screen has never known!
Original title: Flame of Barbary Coast
Duke Fergus es un cowboy que pierde todo su dinero en la casa de juegos de Tito Morell en San Francisco. Allí, se enamora de Flaxen Tarry, la cantante del local y novia de Tito. Sin dinero, se ve obligado a volver a su tierra, Montana, con la decisión de volver pronto a San Francisco para estar cerca de su amada. En casa, aprende todos los trucos del juego gracias al jugador profesional Wolf Wylie. Cuando vuelve a San Francisco, consigue hacer una gran fortuna. Abre su propio cabaret y consigue que Flaxen sea la estrella del espectáculo. El día de la inauguración, un terremoto destruye la casi totalidad de la ciudad y con ella, el negocio de Duke.
Rate quality of subtitles (

0

votos)