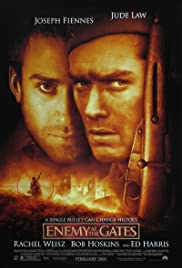 76.0%
Some Men Are Born To Be Heroes.
Original title: Enemy at the Gates
בזמן שמאות חיילים נהרגים מדי רגע בקרב על סטלינגרד, והעולם מחכה לתוצאות המלחמה, הצלף הרוסי המהולל, ואסילי זייצב אורב בשקט לאויביו, אחד אחרי השני. לואסילי יש דו קרב פרטי משל עצמו, כשמעברו השני של המתרס, ניצב הצלף הגרמני. השניים מנהלים מלחמה פרטית על רקע אחד הקרבות העקובים מדם בהיסטוריה של האנושות. ואסילי הוא אדם צנוע, המבצע את תפקידו במיומנות יוצאת דופן. בהכירו את הערך התעמולתי של ואסילי, מחליט דנילוב, קצין ופוליטיקאי סובייטי, להפוך את ואסילי לגיבור לאומי. אחרי שורה של כישלונות, ברית המועצות על סף התמוטטות, ואובדן סטלינגרד יבטיח לגרמנים הפולשים את הניצחון באירופה. חרושצ'וב עצמו, נשלח על ידי סטאלין לפקח על הגנת העיר. הדוגמא האישית של ואסילי, מרוממת את רוחם הירודה של המגנים הרוסים, אך דנילוב מתחיל לקנא ביציר כפיו, כששניהם מתאהבים בטניה, אחת מהנשים הלוחמות. הגרמנים שולחים את רב הסרן קוניג למצוא ולחסל את האיש שקנה לעצמו שם גם בצד בגרמני וגם בזה הרוסי. במיומנות וסבלנות אין סופית, כל אחד מהם אורב לשני, כשהם נלחמים את מלחמתם בבדידות מזהרת, כשמסביבם נהרגים חיילים ללא הפסק על הריסות סטלינגרד.
Rate quality of subtitles (

0

הצבעות)