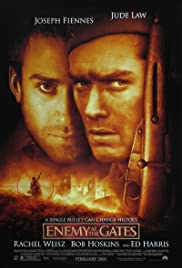 76.0%
Some Men Are Born To Be Heroes.
Original title: Enemy at the Gates
Druga Wojna Światowa. Naziści podbijają kolejne państwa, aż w końcu przychodzi czas na Rosję. Przesuwając się na wschód, dochodzą do Stalingradu. To tam właśnie śledzimy losy sowieckiego snajpera Wasilija Zajcewa (Jude Law) który dzięki skutecznej propagandzie komisarza Daniłowa (Joseph Fiennes) staje się natchnieniem dla rodaków. Wróg jednak ciągle czuwa. Niemcy chcąc zapobiec rozpowszechnianiu się legendy o Zajcewie, wysyłają za nim majora Koniga (Ed Harris), który ma się pozbyć dzielnego żołnierza. Rozpoczyna się pojedynek dwóch snajperów, w którym stawką jest nie tylko życie, ale również przyszłość ojczyzny.
Rate quality of subtitles (

0

głosy)