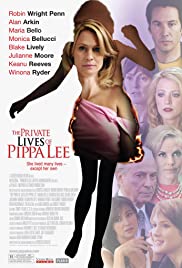 64.0%
She lived many lives - except her own.
Original title: The Private Lives of Pippa Lee
Pode-se dizer que Pippa Lee tem uma vida excelente. Aos 50 anos, mora em uma boa casa, é casada com um brilhante editor 30 anos mais velho e mãe orgulhosa. Até o dia em que seu marido decide que está na hora da aposentadoria e de sair de Nova York. Para embolar de vez, ele também arruma uma amante, bem mais jovem do que ela. Mas as coisas realmente fogem ao controle quando ela começa a ter reações tão diferentes das que tinha quando levava uma vida pacata. E agora, seu mundo, sua vida tranqüila, sua família, tudo o que ela ama está ameaçando ruir.
Avalie a qualidade desta legenda (

0

votos)