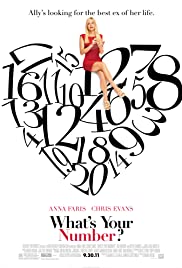 61.0%
Ally's looking for the best ex of her life.
Original title: What's Your Number?
Ally é uma garota fora dos padrões que decide revisitar seu passado de ex-namorados com o intuito de encontrar o homem dos seus sonhos entre eles. A busca tem um porquê: segundo uma pesquisa, a maioria das americanas que passam dos 20 namorados têm dificuldade de se casar. Então, decide buscar entre os 20 passados. Nesta busca, ela terá a ajuda do seu vizinho mulherengo Colin. Em troca, Ally o ajudará a fugir de suas ex… e os dois acabam formando uma dupla perfeita!
Avalie a qualidade desta legenda (

0

votos)