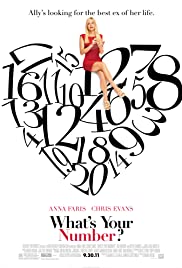 61.0%
Ally's looking for the best ex of her life.
Original title: What's Your Number?
Orta yaşa geldiğinizde birçok adamla çıktığınızı ama evlenmek bir tarafa, doğru düzgün ilişki sürdürülebilecek kimsenin yanınızda kalmadığını gördünüz. İlişkilerde bir türlü aradığını bulamayan Anna Faris'in (Ally Darling) yaşadığı tam da bu. 20 farklı adamla çıkan Anna, hiçbirinde tam olarak aradığını bulamadığı için kendisini yapayalnız hisseder. Hem de kız kardeşi evlenmek üzeredir ve o düğüne bir başına gidecektir.Geçmişte kalan ilişkilerini tek tek gözden geçirmeye karar veren Anna telefon defterini eline alır ve bir zamanlar flörtleştiği bütün adamları tek tek gözden geçirerek onları yeniden arar. Geçmişte kalanların bazıları mesleğinde çok iyi yerlere gelmiş, bazıları çok değişmiş hatta biri eşcinsel olmuştur! Geçmiş ilişkilerin tozlu sayfalarını açan Anna, aradığı sevgiyi önceki yıllarda mı yoksa yanı başında mı bulacaktır?
Altyazının kalitesini oylayın (

0

Oylar)