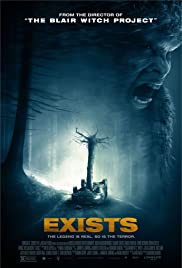 52.0%
The legend is real. So is the terror.
Original title: Exists
Blair Cadısı filmiyle birlikte "buluntu belgesel" türüne yeniden hayat öpücüğü kondurmakla kalmayıp, bu alt türü oldukça popüler hale getiren Eduardo Sanchez, son filmiyle birlikte de bu türün nimetlerinden faydalanmayı ihmal etmiyor! Sanchez' in bu defa peşine düştüğü efsaneyse, pek çok dizi, film ve video oyuna konu olmuş Koca Ayak miti! Film, Texas kırsallarında, Koca Ayak'ın peşine düşen bir grup gencin hayatta kalma öyküsünü anlatıyor.
Altyazının kalitesini oylayın (

0

Oylar)