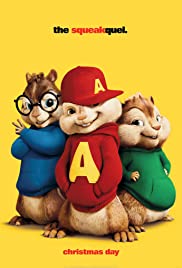 45.0%
The Boys are back in town... and they have competition.
Original title: Alvin and the Chipmunks: The Squeakquel
Yeni maceralarla karşımıza çıkacak olan müzik yıldızı sincaplar Alvin, Simon ve Theodore, Dave Seville'in yeğeni Toby ile yaşamaktadırlar.Okullarına devam etmek için süperstar'lıktan vazgeçen sincaplar okulun müzik programını $25,000 dolar ödül verilen yarışmayı kazanarak kurtarmakla görevlendirilirler. Fakat bu sefer yalnız değillerdir ve rakipleri kız sincaplardan oluşan bir müzik grubu olan The Chipettes'ler; Britany, Eleanor ve Jeanette'dır. Aralarında hem romantizm hem de tatlı bir rekabet gelişen bu iki gruptan hangisi kazanacaktır?
Altyazının kalitesini oylayın (

0

Oylar)