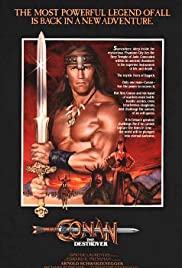 59.0%
The most powerful legend of all is back in a new adventure.
Original title: Conan the Destroyer
Barbar Conan'a, kötücül kraliçe Taramis tarafından zor bir görev yüklenir. Genç ve güzel prenses Jehnna ve devasa koruyucusu Bombaata'ya uzun bir yolculukta eşlik etmek. İkiliye, Kimeryalı barbarın dışında, Conan'ın arkadaşları siyahi kadın savaşçı Zula, kendine özgü karakteriyle büyücü Akiro ve sakar Malak da eşlik eder.Hep birlikte doğal ve doğaüstü güçleri aşıp, mistik ve güçlü bir nesne olan Dagon'un Boynuzu ile birlikte geri dönmeyi denerler. Ancak kraliçe Taramis'in henüz Conan'a anlatmadığı planları vardır...
Altyazının kalitesini oylayın (

0

Oylar)