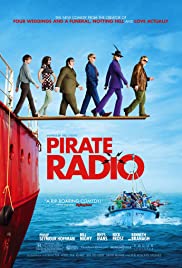 74.0%
On air. Off shore. Out of control.
Original title: The Boat That Rocked
Inglaterra, años 60. Narra la historia de dos locutores de radio de una emisora pirata. En 1966, la BBC sólo emitía dos horas de rock and roll a la semana. Pero la radio pirata inundaba el país con rock y pop 24 horas al día. Y 25 millones de personas, más de la mitad de la población, la escuchaban cada día. Cuando Carl (Tom Sturridge) es expulsado del colegio, su madre lo manda a pasar una temporada con su padrino Quentin (Bill Nighy), el jefe de Radio Rock, una emisora pirata instalada en un barco en el mar del Norte que cuenta con un extravagante grupo de pinchadiscos. Entre ellos destaca "El Conde" (Philip Seymour Hoffman), un auténtico dios de las ondas.
Rate quality of subtitles (

0

votos)