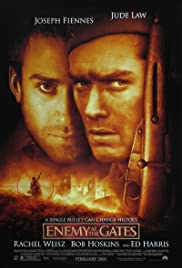 76.0%
Some Men Are Born To Be Heroes.
Original title: Enemy at the Gates
Em plena II Guerra Mundial, no ano de 1942, os nazis invadem a União Soviética e tentam conquistar Estalinegrado. Os russos tentam a todo custo resistir, mas a vitória nazi está iminente. É nessa altura que surge um novo herói, um franco-atirador russo, Vassili Zaitsev, que semeia o pânico ao abater dezenas de oficiais nazis com a sua extraordinária pontaria...
Avalie a qualidade desta legenda (

0

votos)