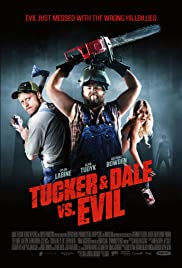 76.0%
Evil just messed with the wrong hillbillies.
Titre original: Tucker and Dale vs Evil
Tucker, Dale, deux braves types venus se ressourcer en forêt, se préparent à passer du bon temps. Mais leurs vacances vont être compromises lorsqu'une bande d'étudiants débarquent dans leur coin de paradis, les prennent pour des serial killers... Début du quiproquo, début des ennuis..., de la rigolade !
Votre avis sur la qualité des sous-titres (

0

votes)