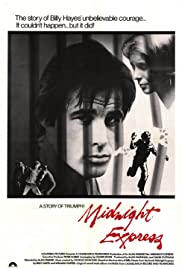 76.0%
Walk into the incredible true experience of Billy Hayes, and bring all the courage you can!
Original title: Midnight Express
Billy Hayes (Brad Davis), um estudante americano, ao visitar a Turquia decide traficar alguns pacotes de haxixe, prendendo-os debaixo de suas roupas. Seu plano acaba não dando certo e ele é preso, com sua vida se transformando em um pesadelo a partir de então, pois é brutalmente espancado e jogado em uma imunda prisão. Quando espera ser libertado é levado a um novo julgamento com efeito retroativo, que o condena a uma longa pena.
Avalie a qualidade desta legenda (

0

votos)