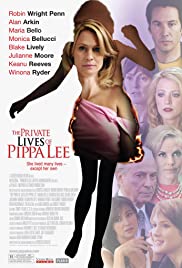 64.0%
She lived many lives - except her own.
Original title: The Private Lives of Pippa Lee
Пипа Лий е жена в разцвета на живота си. Щастливо омъжена, майка на две пораснали деца, щедра домакиня и прекрасна готвачка. Бракът й с легендарния писател Хърб Лий, който е с тридесет години по-възрастен от нея, е основан на партньорство и продължава безмълвно към последната фаза от неговия живот. Когато Хърб навършва 80 години те разпродават луксозните си апартаменти в Ню Йорк и вилата в Кънектикът и се преместват да живеят в идилично пенсионно селище, където да прекарват времето си в пълно спокойстие. Вътрешно Пипа не е щастлива, дълбоко в подсъзнанието и се събуждат стари спомени и мисли. Младостта й е била доста различна, размирни времена, с опит в наркотиците и еротичните експерименти, пристрастена към амфетамини майка и самоубийството на бившата съпруга на Хърб пред очите й. Сега тя трябва да се изясни със самата себе си. Но там в идиличния пенсионерски рай, старите грехове стават все по-атрактивни.
Rate quality of subtitles (

0

гласовеs)